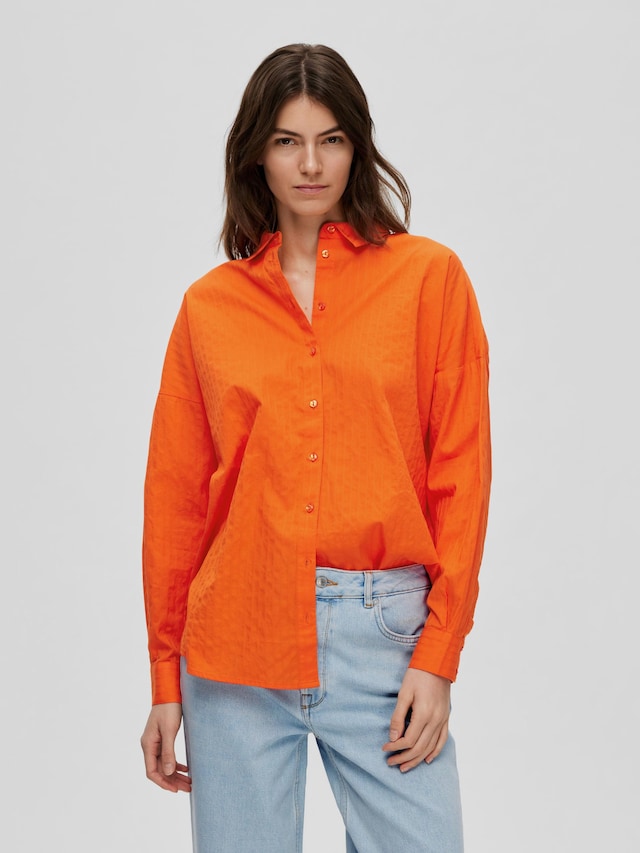 Free delivery when you spend 40 €
Kent collar

Classic-cut blouse

Button fastening

Cotton

Cotton (from organic farming)

Topstitched hem/edge

Front button closure

Round hem

Scoopneck neckline

Turn-down collar

Unicolored

Tone-on-tone seams

Soft feel

Sleeve length: Longsleeve

Fit: Loose fit

Length: Normal length

Item No. SEF3889001000002

Material: 100% Cotton (from organic farming)

Understated. Effortless. SELECTED FEMME womenswear creates timeless classics that exude Scandi cool. Think clean lines and premium finishes, in versatile collections that'll do desk, dinner and so much more. From premium leather jackets and luxe everyday staples, to the brand's Responsibly Crafted, conscious edit, there are endless ways to refresh your style this season. Also available in petite and tall sizes.

Organic Cotton

Organic Cotton remains our preferred cotton source to have within our garments. Grown using no chemicals, synthetic fertilisers, pesticides and far less water than conventional cotton. The use of organic cotton protects local habitats and the farmers which grow it, preserves the planets soil quality, and limits the effects of soil erosion that conventional cotton has on our planet. Also, let's not forgot about the less energy it takes to produce organic cotton, and the reduced level of CO2 created through its cultivation. To ensure we are making a difference, we only use our organic cotton symbol if the garment contains at least 50% organic cotton.