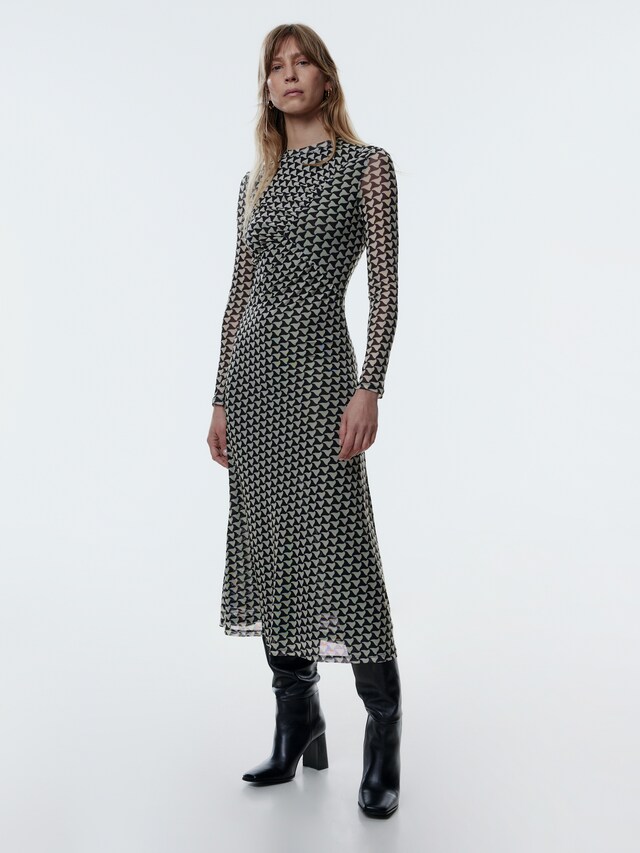 from €41.94 €69.90
incl. VAT
30-Day Best Price* €41.94
Free delivery when you spend 40 €
Crew neck

Recycled polyester

Sleeve length: Longsleeve

Length: 7/8 length

Fit: Normal fit

Item No. CFE0699001000001

Not dryer safe

Dry cleaning with perchloroethylene

Do not iron hot

Do not bleach

30°C easy-care wash

Outer material: 92% Recycled polyester, 8% Elastane

Created in a multifaceted city like Berlin by an international creative team, EDITED the label stands out with inspiring and trend-focused fashion that is simply fun. Their collections combine modern cuts and prints with basics of high-quality materials – and all of that at a fair price. Fashionable trend-looks, relaxed office chic or colourful print-pieces – EDITED the label offers everything that makes fashion-hearts beat faster. Alongside seasonal must-haves, the collections offer basics like denim, leather jackets, knit and jersey styles that are classy and fun to style. Equipped with a lot of experience in the fashion industry and an essential intuition for style and trends, Head of Design Clarissa Labin and her creative team design for the modern customer. The team finds inspiration in many places. Alongside metropolises like New York, Paris and London also Berlin – the home of the EDITED Design Office – plays an important role. Therefore, the look of EDITED the label is as exciting and creative as the style of the German capital.

Recycled Polyester

Recycled Polyester allows for the reduction of environmentally and unfriendly effects and processes within the production life cycle. By recycling non-biodegradable materials such as polyester, it contributes to the reduction of natural gas and oil extraction which is commonly an effect of a new production process within the supply chain. Recycling polyester also reduces the dependency on landfills, contributing to the conservation of our land and oceans. To ensure we are making a difference, we only use our Recycled Polyester symbol if the garment contains at least 50% Recycled Polyester content.